---
Verbunden - Nicht Verbunden - Performance 
Verbunden – Nicht Verbunden/Connected - Not Connected  - Live performance in public space 
Art Festival Kunstraum/Art Space (Alte Bürger/Old Citizens) 22-23 September 2018 
Bürgermeister Smidstrasse between house numbers 133-163 and 190-212  , Bremerhaven, Germany  
---
Perfo Bienal Internacional de Performance / International Biennial of Performance ArtNet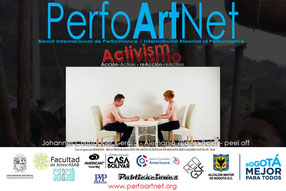 12th October 2018 - 13th April 2019
Various venues inside Bogota, Colombia 
(Sala Centro Colombo Americano, Sala de Exposioncies ASAB and Galeria Santa Fé ) plus online screening 
Two video performances of mine will be screened:   
peel off  with Wiebke Kahn , 12th of October and 14th of December 2018 
&
Disorientated Displacement ( Desplazamientos desorientado) 24th of November 2018
---
07.09.18 in Odzaci, at the Hotel "Sloboda"
09.09.18 in Novi Sad at SULUV Gallery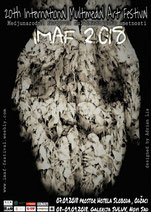 International Multimedia-Festival
07.09. September 19.00 h, Hotel Sloboda, Odzaci, Serbia  /  08 und 09 September 19.00 h, SULUV Galerie, Novi Sad, Serbia
Seven artists from Serbia and nine artists from Germany, Finland, Poland, Hungary and Austria are the participants of the 20th anniversary Festival of multimedia art. Within the Festival we have invited well known artist and a certain number of young artist from Serbia and abroad.
Artist will perform on several locations in Odzaci, at the Hotel "Sloboda" place and on the town streets. In Novi Sad the Festival will take place at SULUV Gallery and on the city streets, with cooperation of the Association of Fine Artists of Vojvodina.
---
4th Festial of Naked Forms / 4.Festival nahých forem /FNAF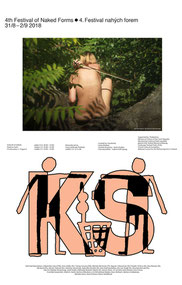 4th Festial of Naked Forms / 4.Festival nahých forem /FNAF
31.08-02.09.2018
Friday 31. 8. 18.00 - 22.00 - Saturday 1.9. 14.00 - 22.00 - Sunday 2.9. 14.00 - 22.00
Kasárna Karlín a Karlín Studios, Prvního pluku 20/2,, 186 00 Prague 8-Karlín
---
Tryouts and experiments of ideas for new performances. Photos by lensmosaic.ca 
Naked State 
07 August to 17 August 2018, Bare Oaks, East Gwillimbury, Ontario L0G 1V0, Canada 
The aim of this 10-day residency is to create artworks that explore the nude human body in context of nature, culture and art. For the duration of the residency, the artists creating works that explore questions such as: What is nudity? Does stripping away clothing rid us of class, gender, and personal expression?; Do the connections between our bodies and the land change when nude? Is nudity always sexual? What is the role of the nude in historical and contemporary art?. Is it possible to be civil in the nude?; Is there a natural state for human being? Residents work individually or collaboratively to create artworks that explore these questions through media of their choice, such as photography, video, installation, drawing, painting, performance art, dance, sound art, media art, etc.
I am one of the artist who take part in this residency, because the human body plays an important part in my work. Beside my collaboration project  Unfolding-Unwrapped which  I hope to conduct during the residency, at the same I  focus on a individually project, I tried out already some short video and video performances sequences. At this stage everything is experimental, but to be selfcritical I am not very convienced and not very satisfied at this stage of the residence 
---
Unfolding - Unwrapped on a island - Eye´s Walk Digital Festival 
Eye´s Walk Digital Festival
27,28,29 July 2018 - Opening 27 July 22.30 h 
 Ermoupolis/Ano Syros, Syros Island, Greece  -  Different venues inside Ermoupolis/Ano Syros 
Images from the performance Unfolding-Unwrapped. I conducted the performance with my two assistants Marialena Tsantila [with the red pants] and Agni Frerion 28th of July 2018 on Kamara Square, Ano Syros, Greece in conjunction with the Eyes Walk Festival
We performed twice that evening variant 1 and the variant 2 of Unfolding-Unwrapped in one flow.
 But just like all previous performances , the performance is never the same, even the concept and principles stay the same. Each time differenent interpretations by the participants and adapted to the local environment 
The "Eye's Walk Digital". An innovative festival that combines digital technology, video installation & performing art, experiential design with the unique cultural and architectural background of a city. "Eye's Walk Digital" draws its themes from people and society in order to create a new kind of art by creating a synthesis all of the above mentioned. Its productions are developed in public space with courage  and with the participation of artists, visitors and the community.
---
ԵՐԵՒԱՆԸ` ՄԱՐՏԻՆ _Yerevan in March_Eriwan im März
Rehersals for live performance YEREVAN IN MARCH
---
Social Sculpture Workshop Unfolding-Unwrapped in the Classroom 
Goethe-Zentrum, Yerevan, Armenia, March 2018
Social Sculpture Workshop Unfolding-Unwrappred in the Classroom
After a talk with the head of the langauge department and two teachers of the Goethe Zentrum in Yervan, I tried something new. The workshop became part of German langauge lessons. I adopted a shorter version in German of Unfolded-Unwrapped for to intregrate into the class room sessions. The experiment was carried out with three different groups of students. However it was not only for to conduct the workshop, but also for to explain more about the concept of Social Sculpture. That the term was first invented by Joseph Beuys and his ideas behind it. After the workshop the students discussed in German how they saw the workshop and concept
Finally for the students it was a complet new and different approached towards their use of langauge abiltities. As well to widen their knowledge about German culture from a different angle.
---