about Live Performances / Video Performances / Workshops
---
16th Intern. Workshop Week  in Lüben

And again back to the country side . I am participating at
Internationale Werkstattwoche – International Workshop Week "Dignity"
01.07.2023 – 10.07.2023 / Lüben, Lower Saxony. Germany
For ten days, 18 artists from seven nations stayed in the village of Lüben (today part of the town of Wittingen)/ The artists working in the fields of painting, drawing, photography, video and installation. I gave three times a life performance, conducted a workshop for pupil's and created two installations works. 
 "The Plant" Live Performance, 13 minutes, 8th & 9th July 2023
During the exhibition and final presentation of the 16th International Workshop Week Symposium in Lüben, I also presented a new live performance. I have performed three times, once on Saturday July 8th and twice on July 9th 2023. Actually the performance is based on a video performance that I had tried out in May this year during the Pedvale project in Pedvale, Latvia
The work, like the two installation works I created during the symposium, has a philosophical approach, based on Buddhist and Zen thoughts, but at the same time containing autobiographical elements. It is a live performance with deliberate movements and without words. To reflect the concept of dignity in relation to time, stillness, the power of solitude and the fact that every living being and every object has its dignity.
Photos : Vincent Grahn
The Wednesday afternoon 5th of July of the Symposium in Lüben was reserved for an art workshop for students between the ages of 11 and 16. 
Two to three students were assigned to each of the artists participating in the symposium. I had been assigned two eleven-year-old students. Who were also the youngest participants. At the beginning I briefly explained what means  installations, land art and performance and showed some examples. But I think it's more important that students or children try things and possibilities themselves. Just experiment with your creativity. I try to avoid creating a school atmosphere, feeding them art-educational nonsense, or pushing them in a direction that I like to see as an artist. I prepared very few things, e.g. plastic foil in different thicknesses and two different types of thin rope. They would look for the rest of the material in the area themselves. During the afternoon, when I worked with the two students, I gave as few instructions and interfered with their actions as little as possible. The result of this afternoon was both creating with the wind and experimenting with materials and elements. They also create a delicate land art art piece with the rope and branches between two large trees. However, they returned to the plastic foil and went to the fields to make the best use of the wind and space. The desire to get off the ground and fly away was the inspiration for their creativity on this particularly afternoon.
---
Social Sculpture Workshop 26 May 2026
Live Performance "Stones" 26 May 2023
All month of May 2023 I was occupied with a new interdisciplinary project at Pedvale Art Park in Sabile, Latvia. I work in performance, video performance, sound, video and land art. This project is a bit different from most previous projects as there was no collaboration with other artists, art students or a community. Overall, the project's focus was heavily on live performances and video performance testing. A social sculpture workshop was also held.
I created a very site specific live performance called "Stones" in which the land art object became an important integral part. But at the same time, the live performances and video performances also contained some autobiographical elements.
No workshop is like the other and that also applies to this one. The small group of participants was very creative and engaging and often completed many of the different exercise steps automatically and without any instructions beforehand.
The project is founded by the European Union and implemented by the Goethe-Institut through the CULTURE MOVES EUROPE grant scheme

---
a two-day screening event, Video Art Miden
"stairs & corridors" which is a collaboration work with dancer Jana Schmück (Bautzen, Germany) is presented in a two-day screening event, Video Art Miden presents 2 video art sections at To Pikap in Thessaloniki, Greece :
"True lies" curated by Nikos Podias on Friday, June 2 and "Shhhhh... #1" curated by Martha Zoupa on Saturday,  June 3.
"stairs & Corridors" is screened in the section "Shhh#1"
Place and times: To Pikap Kato (Olympus 57), Thessalonki, Greece 18:00-23:00. 2nd June - 3rd June 2023
Each day's unit will be looped. Link https://www.facebook.com/videoartmiden
---
INTERNATIONAL ECOPERFORMANCE FILM FESTIVAL
"the HEALING" was screened  1st of June at the
INTERNATIONAL ECOPERFORMANCE FILM FESTIVAL, São Paulo, Brazil
1st of June until 4th of June 2023 at Cine Satyros Bijou, Praça Franklin Roosevelt, 172 – Consolação, São Paulo, Brazil
The 3rd Ecoperformance International Film Festival continues its transcultural mission of bringing together interdisciplinary artists who work in natural, urban, and virtual landscapes to investigate in an ecopoet[h]ic and cinematographic way the tensions of composition and conflict between environment, body, and ancestry.
Link : https://www.ecoperformance.art.br/
---
MOOVY Tanzfilmfestival - dance film festival
MOOVY Tanzfilmfestival - dance film festival
" View behind the curtain" is a collaboration project with dancer Jana Schmück (Bautzen, Germany) and will be screened at:
MOOVY Tanzfilmfestival - dance film festival
19.05.2023-28.05.2023. Filmforum im Museum Ludwig & Alte Feuerwache, Cologne, Germany
The work was presented at Kino Alte Feuerwache Melchiorstraße 3, 50670 Cologne on 27 May 2023 from 17.30 on
Festival director: Ágota Harmati - https://www.moovy-festival.com/
---
video performance "Fallen" is travelling
My video performance "Fallen" is travelling with The 3rd edition of the International Festival of Minimal Urban Video Performances "The (Rur)urban body in action" which first took place in October/November 2022 at the culture center Sala Rekalde. in Bilbao, Spain and Centro Cultural Los Ciggaros, Alicante, Spain.. Between November 2022 and February 2023 the festival continues to be presented at various venues in Spain, Argentina. Brazil and The Netherlands. The most recent venue is from 07/02- 03/03/2023 2023 at Centro Carmen Jiménez, in conjunction with the exposition "Tocar la Tierra" in Granada, Spain
Curated by Elia Torrecilla
---
MUESTRA DISLOCADA/DISLOCATED 2022 - India Edition -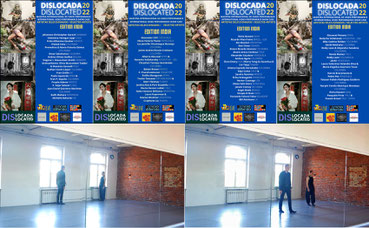 LIVE HIVE and Goa Moving Images Festival presenting MUESTRA DISLOCADA/DISLOCATED 2022
- India Edition -
Screenings will take place between 23th December 2022 through 1st of January 2023
Live Hive Residency, 71/1, Gaunsawaddo, Siolim, Goa, India
Curator Mitali Nath
My video performance "in times of..." with Anne Rosenbaum will be shown 
---
CASA DE CULTURAL COLOMBO ALEMANA - Cartagena, Colombia
Two events which took place on 13th and 14th December 13th 2022 at CASA CULTURAL COLOMBO ALMANA / COLOMBIAN GERMAN CULTURAL HOUSE (Goethe-Institut) in Cartagena, Colombia were the last live and in person project for 2022. The events included my Social Sculpture Workshop,a live Performance, a video presentation and an artist talk. I performed my Performance "Dialogue", which contains autobiographical elements. The focus of the video presentation was about the joint project "The Ashes of Eden Project", which was created together with the dancer Jana Schmück (Bautzen, Germany). The Ashes of Eden Project deals with the social and cultural environment of Upper Lusatia in the Eastern part of Germany after reunification through dance. The artist talk was not only about my career, but also contained my own critical views about my own work, visions and today's art scene 
---